Home sales in the Fredericton area experienced a moderate decline in June 2023, according to the Real Estate Board of the Fredericton Area Inc.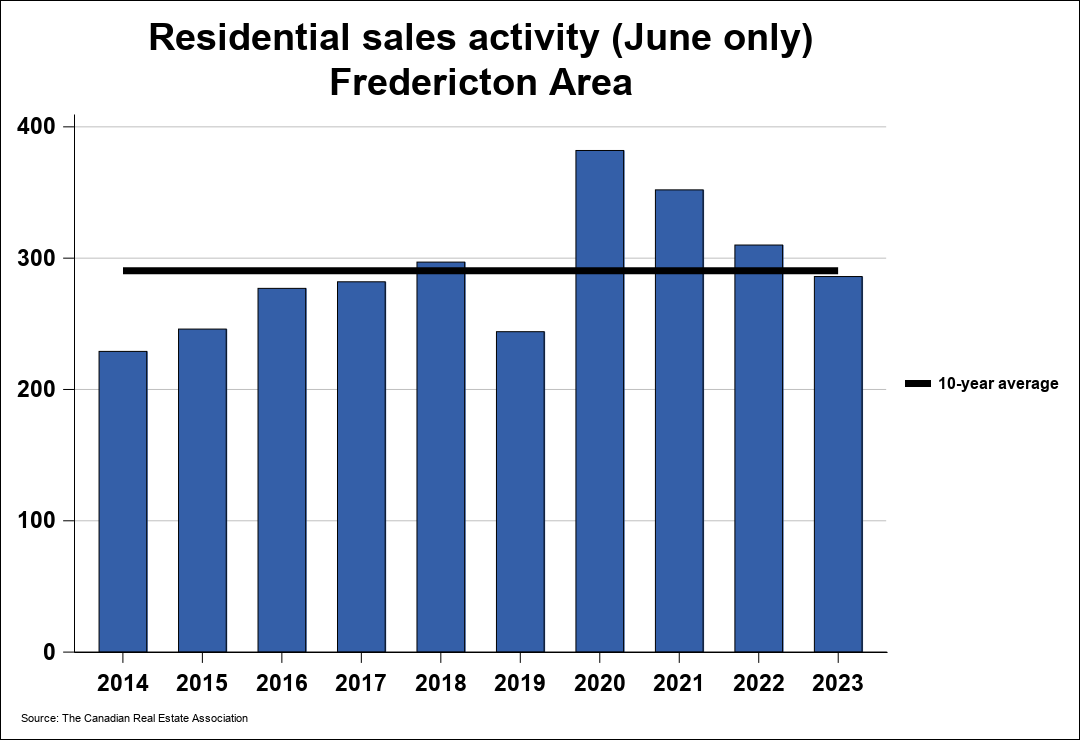 A total of 286 units were sold during the month, reflecting a 7.7% decrease compared to June 2022. This figure also fell 9.1% below the five-year average and 1.5% below the 10-year average for June.
Cumulatively, home sales for the first half of 2023 amounted to 1,156 units, indicating a substantial decline of 18.6% compared to the same period in 2022. However, despite the year-over-year decline, June's home sales showed improvement compared to the previous month, marking the fifth consecutive month of increasing sales and suggesting a positive trend in the local market.
Michele Morris, President of the Real Estate Board of the Fredericton Area Inc., noted that the number of newly listed properties decreased in June, resulting in an overall inventory of fewer than 500 available homes. The sustained rise in sales, combined with limited new listings, has exacerbated the ongoing supply shortage. Notably, the number of active listings hit a record low for any June, further underscoring the scarcity of available properties.
Regarding pricing, the MLS® Home Price Index (HPI) revealed a 5.1% decline in the overall composite benchmark price, which stood at $288,400 in June 2023 compared to June 2022. The benchmark price for single-family homes was $289,300, reflecting a 5.2% decrease year-over-year, while the benchmark apartment price was $267,600, showing a slight reduction of 2.4% from the previous year.
The average price of homes sold in June 2023 was $336,481, representing an 8.7% increase compared to June 2022. However, the year-to-date average price remained relatively stable, with a minimal 0.4% rise to $325,633 compared to the first six months of 2022.
In terms of market value, the total dollar value of home sales in June 2023 reached $96.2 million, a marginal increase of 0.3% compared to the same month in 2022. This figure set a new record for the month of June.
New residential listings experienced a significant decline, plummeting by 26.7% from June 2022. A mere 332 new listings were added in June 2023, marking the lowest number for June in two decades. These figures stood 18.4% below the five-year average and 24.3% below the 10-year average for the month.