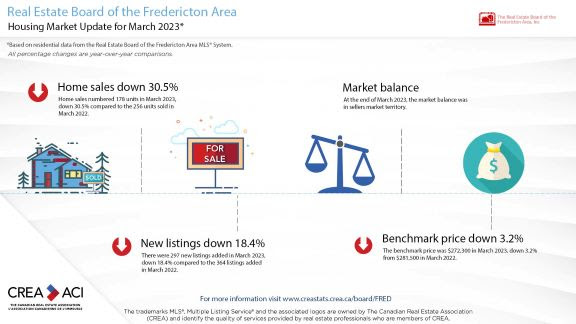 It was a quiet end for the first quarter of 2023, as home sales dropped 30.5 per cent in March compared to a year ago, according to the Real Estate Board of the Fredericton Area.
On a year-to-date basis, home sales also fell 24.8 per cent compared to the same period in 2022. A total of 391 houses were sold.
The benchmark price for single-family homes was $272,800, a modest decline of 3.7 per cent on a year-over-year basis in March. By comparison, the benchmark apartment price (condominiums) was $261,300, an increase of 9.5 per cent from year-ago levels.
For the first three months however, the decline was minimal at 1.9 per cent in terms of average price, compared to the same period last year. The year-to-date average price was $306,470.
Housing supply also fell, with the number of newly listed properties down 18.4 per cent from March 2022.
With Fredericton still suffering from low inventory of houses,  the month of March was still a seller's market.
Feel free to reach out to me anytime for any real-estate related questions.