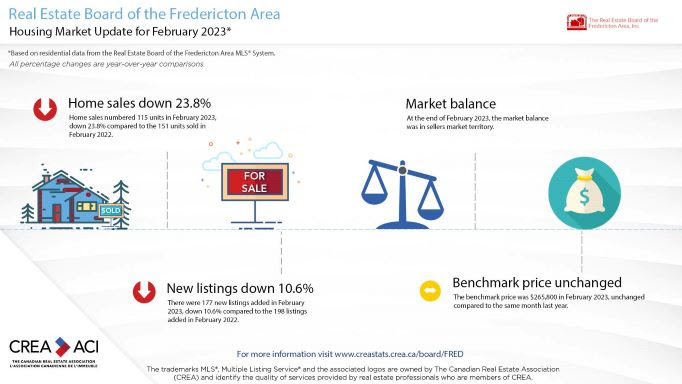 The number of homes sold through the MLS ® System of the Real Estate Board of the Fredericton Area Inc. totaled 115 units in February 2023, decreasing 23.8% from February 2022.
Home sales were 17.9% below the five-year average and 10.2% below the 10-year average for the month of February.
On a year-to-date basis, home sales totaled 214 units over the first two months of the year, retreating 18.9% from the same period in 2022.
The overall MLS ® HPI composite benchmark price was $265,800 in February 2023, essentially unchanged, up just 0.9% compared to February 2022.
The benchmark price for single-family homes was $266,400, a slight gain of 0.6% on a year-over-year basis in February. By comparison, the benchmark apartment price rose 10.5% to $253,000, from year-ago levels.
The average price of homes sold in February 2023 was $311,369, advancing 5% from February 2022.
The more comprehensive year-to-date average price was $286,053, up by 4.4% from the first two months of 2022.
The number of new listings fell 10.6% from February 2022. There were 177 new residential listings in February 2023. This was the lowest number of new listings added in the month of February in three decades.
Active residential listings numbered 348 units on the market at the end of February, a substantial gain of 61.1% from the end of February 2022.